Red
EXHIBIT Closed on November 18th 2012
Jurors: Brooks Jensen and Maureen Gallagher
Red.
A primary color.
Light. Laser. Sunset. Earth. Brick. Fire. Lips. Blood. Heart. Heat.
Heroism. Rage. Loyalty. Aggression. Honor. Evil. Love. Stop.
Curry. Pepper. Paprika. Pomegranate. Cherry. Apple. Red Dress.
Red Riding Hood.
The Scarlet Letter. 
The Red Badge of Courage. Raise the Red Lantern.
Happiness. Success. Fortune. Fertility. Passion. Lust.

The Feast of the Martyrs.

Rose. Ruby. Cardinal. Sin. Loss.

Communism. Socialism. Revolution. And, a safelight in a Darkroom. 

Red. Roja. Rosso. Rouge. Red. Rot. Rooi. Roig. Rood. Red. Roge. Rudhira. 紅. RED.
Juror's Statement:
As an editor of a publication dedicated to black-and-white fine art photography, it was an interesting (and fun!) opportunity to work with color – especially since the participants were focusing on just one color: RED. Every juror has their way of whittling down to their final selections. In my process of elimination I retained images where RED was essential (rather than incidental) to the image. That eliminated the images where RED was present, but not necessarily making a strong visual statement. Of interest is that there were a number of photographs that may have made the exhibition cut, but the unnecessary "stuff" left at the edge of the image was just too distracting. A bit of subtle cropping can go a long way to tidy-up the intrusion of clutter into the rest of the print. This is probably the most common oversight we see while conducting portfolio reviews for LensWork.
When it came down to selecting my prize winners, I must confess that I had a more difficult task. I chose "Best Friends" for Juror's Choice, as I loved the rich feeling of atmosphere – with the trees reflecting in the glass as well as casting shadows on the doors. RED was essential to this image: I can't imagine that "Best Friends" would be as captivating if these were brown doors shot at noon.
I selected two completely different images for Honorable Mention: "Red Carpet Solo" was shot from the perfect perspective to juxtapose the monochrome gray lines of the concrete and glass with the bold ribbon of RED running the length of the entry. I appreciated that the photographer was careful in achieving clean lines – and the addition of a person brought a sense of scale and austerity. My other choice for Honorable Mention, "Car In Field," offers an untold story in a land that clearly loves the color RED. Maybe this is a case of "f8 and be there," but the green landscape and gray sky conspired to give the photographer a wonderful study in RED.
Maureen Gallagher
Photography offers a fundamental choice to anyone wanting to use a camera for more than just family snapshots. The moment we pick up a camera and set out to make something we might call "art," we must first decide if we are editors who select which tiny part of the world to capture in our recording or whether we are more proactive in making something in the world, or out of it. The former leans toward the documentary side of photography's capabilities; the later leans toward the use of the world as merely a starting point for an interpretive act of creation. Both kinds of photography are valid and interesting, but as the years have gone by in my involvement in photography, I find myself more and more drawn to the interpretive side of creation. Photography is not just what we see, but even more so what we make.
Where these two strategies intersect is one of the most powerful point in the photographic process — as I would propose is easily seen in the work in this exhibition. Powerful seeing and imaginative making combine into a most exciting duo in the creative process. The selection of a Juror's Choice image is based on this combination — a beautifully seen composition in combination with an imaginative making that brings the theme of the exhibition to the forefront. In fact, there is so much talent on display in this exhibition that we have here proof that this is one of the best times in all of photograph's history, simple because of the plethora of great images that are being produced by so many people who find photography an ideal medium for personal expression. Well done!
Brooks Jensen
---
Lips1
Juror's Choice
Best Friends
Juror's Choice
SOLD
Car in a field
Honorable Mention
---
a sinking realization
Honorable Mention
Bloodshot
Honorable Mention
Red Carpet Solo
Honorable Mention
---
Pensive Novice Monk
People's Choice
Heavenly Doorway
Across
---
Barn in Back Field
Morning at the Tsukiji Fish Market
Red Candles
---
Abandoned Roundhouse
Phyli and Red Veil
Girl in Korean Garden
---
Frosted Apples
Brita, Bed
Untitled
---
Willie Nelson
Cuban Dominoes
Mysterium #5
---
Flow
Private Window
Sneem, County Kerry
---
Plymouth in the Rain
Plymouth in the Rain
Bicycle Amsterdam
---
Guest House, Martin's Creek, PA
Passion
One stands out from the others
---
Birdseed Vendor
Head to Head
Dancer
---
Hoop-it-Up
Red Doughnuts
Lips
---
Untitled
Red Barn
Red Poppy
---
Cemetery's Dawn
West Monitor Barn
Geraniums
SOLD
---
Passion
Jessica
Red III
---
Red Turban
Beauty in Strength
Cowboy
---
Inner Light
Choices
Casa Luna at Night
---
A Chili Story
Waiting
Boy Playing
---
From the series "Floristics"
Bruce, Cross House, Chicago, IL
Rainy Day
---
There is a Crooked Window
The End of America
Failing Health
---
Sin Will Find You Out
Rustic
Havana
---
Rainy Yellowstone
The Littlest Monk
Meeting expectation...
---
beijing, china
zhouzhuang, china
The Red Door
All selected entries are exhibited in our gallery and included in a full color exhibit catalog. Juror's Choice receives a 30x48" vinyl exhibit banner featuring their image.
For this exhibition each juror will make a Juror's Choice and the winners may choose a:
40-minute eConsulation with Brooks - $60 value

OR a one-year Full Access Membership to LensWork Online - $59 value
Each juror will also choose TWO Honorable Mentions. The winners may choose a

A one-year Subscription to LensWork Magazine (print version) - $39 value
OR a one-year Subscription to LensWork Extended (DVD version) - $39 value
People's Choice gains free entry into a future exhibit. We offer free matting and framing of accepted entries for the duration of each of our exhibition, subject to standard sizes. Photographers set their own prices if they wish to sell their work and retain all rights to their photographs.
Juror: Lenswork's Brooks Jensen and Maureen Gallagher
Brooks Jensen is a mainstay at the popular Review events such as Photolucida and the Houston FotoFest. As a fine art photographer, author, and educator, he has counseled one-on-one, hundreds of photographers on their work, technique, and careers through personal reviews, and many more through his workshops, books, and multi-media outlets. As publisher of LensWork, he has reviewed thousands of submissions over the last 20 years. He brings a studied eye, to say the least, to his Jury task for our exhibition "Red."
Brooks Jensen, together with Maureen Gallagher, are Co-Editors of LensWork Magazine, LensWork Extended, and LensWork Daily, an online resource for news, technology, commentary, and discussion through blogs and podcast. The award-winning LensWork magazine is an anthology-style periodical published bi-monthly, featuring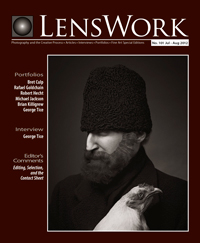 3-4 portfolios, articles and commentary, and is devoted to fine art black & white photography. It was first printed in September of 1993 and is currently available in print and for download. LensWork Extended is its expanded online companion, also featuring color work, available on disc and for download. At www.lenswork.com you'll find easy access to extensive educational opportunities through downloadable short and long tutorials, books and eBooks, and audio interviews, in addition to the LensWork Daily blogs, and an extensive collection of beautiful museum-quality publications.

Brooks and Maureen are a perfect pair to Jury "Red." Jurying for single-color focused images requires a particular, deliberate scrutiny. We are convinced that their combined experience in observing the fine points of black & white imagery (including tonality, shade and shadow, texture, density, and full-spectrum grey scale) would lend incredibly vigilant eyes to the single-color focus. They are highly sensitive to color, and with their LensWork Extended color-included online review additions, "Red" is the perfect foray for this dynamic duo.