H2O
H2O
EXHIBIT Closed on January 3rd 2016
Juror: Gary Braasch 

Juror's Choice: Souvenir
by Randy Richmond from Muscatine, Iowa USA
Water: the origin and sustenance of all life on earth.
Water can be as beautiful and gentle as a morning dewdrop on a green leaf and as destructive as the raging of a river in flood.  We are made of oceans and rivers; an adult human body is 60% water, and a person can go little more than four days without drinking water.
Today water presents us with a paradox. The ocean levels are rising, and some areas are experiencing inundation, while other parts of the world are suffering unparalleled drought. Clean drinking water has become a precious commodity.
With this dichotomy in mind, how does the photographer depict the full range of our relationship with water? The beauty of oceans and rivers has been a source of inspiration for artists for ages, and photographers are no exception.  Who hasn't been seduced by the glint of the sun off a rippling body of water?  And yet, to be responsible custodians of our only world we have to look at the effects of the human mismanagement of water.
We're casting a wide net for this exhibition, inviting photographs that illustrate the beauty of water in all its mutable forms, and also images depicting our increasingly difficult relationship with water.  Water as muse, water as destroyer; the creative possibilities are limitless.
Juror's Statement:

This was an enjoyable and enlightening experience and I congratulate all the photographers on their work and interest in the subject, water. The range of work technically was very broad as was the interpretation. The exception to this was that few images addressed social or environmental concerns, which are so central to how we actually use water. I was also surprised to find little reflecting water's central position in agriculture and our food. A few photographers illustrated the human relationship to water — our elemental reliance on water for life, utility and beauty.
In my choices for the exhibition there are examples of most genres of photos that have water as a main element, and I have tried to honor those that neared perfection and pushed the ideas, although not new, toward a finer edge. I celebrate new angles of view and a deeper use of the multiple meanings found in the qualities of water to refract, reflect, obscure, magnify, distort and iridesce. I paid no attention to technique in the final picks — HDR, triptych, super long exposure, color work in the "darkroom," and fine black and white composition — but I tried to downplay the many obvious cliches among the entries. There is wonder and magic in "the rapture of the shallows," but I feel the most important thing for us to understand and communicate when we can is how dependent we are on water, how precious and necessary it is in its purity, and how commonly it is abused and wasted. 
Gary Braasch 
---
Souvenir
Juror's Choice
Ice Train From Dresden
Honorable Mention
Water
Honorable Mention
---
Autumn Trout
Honorable Mention
Summer Storm
People's Choice
Decatur, Alabama
---
Jump
Flying to Fort Wayne
Watkins Glen #2
---
Hot Spring Rorschach Test
Dew on White Pine
Ice 4
---
Stream 1
Beautiful Melancholy
Catfish In Fish Tank
---
Brooke in a Stream
Flow and Currents
Bear Lake Grasses and Reflections. CO
---
Viet Nam Water Carrier
Water Spirit
Reflections
---
square water 2
Sophie and the Puddle
Sunrise in Middle Earth
---
plankton, microscopy, cheers
diatom
Be Bold
---
Floating
South Shore Suite, June 10, 2015
Gesture
---
Circles with Oak Leaves
The Land at the Base of the Wall
Tea Ceremony
---
The Power That Builds in Solitude
Inexhaustible?
Li Shen
Thetford Center, Vermont USA

Staged Still: Water
---
Foam Aswirl
Rocks on the Water
Surge
---
Hobo Camp
Playing On The Edge Of The World
Shore Line
---
Fractured, Holding On
Myrtle Beach, SC
Storm
---
waterlogged (flip)
pentimenti
A Standing Wave
---
Legs
After Rain
Aquaria
---
Twilight
Fog over Lake Ciginovac
Landmannalaugar Hot Springs
---
All selected entries are exhibited in our gallery and included in a full color exhibit catalog.
Juror's Choice receives a 30x48" vinyl exhibit banner featuring their image, free entry into a future exhibition, and a free exhibition catalog.

Honorable Mentions receive free exhibition catalogs and free entry in a future exhibition. 


People's Choice gains free entry into a future exhibit.

We offer free matting and framing of accepted entries for the duration of each of our exhibition, subject to standard sizes.

Photographers set their own prices if they wish to sell their work and retain all rights to their photographs.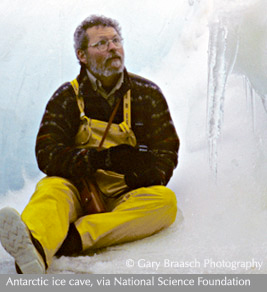 Gary Braasch is an environmental photojournalist and writer who documents nature, environment, biodiversity and climate change around the world. He has been a nature photographer for more than 40 years, and is internationally known for dramatic, artistic and science-based nature photography. His images and assignment articles have been published by Time, LIFE, New York Times Magazine, Discover, Smithsonian, National Geographic, Scientific American and the United Nations among many others.
In photographic assignments he specializes in recording the essence of whole ecosystems and threats to their biodiversity, employing techniques from aerial photography to extreme close-ups and underwater shots. His work has won
awards from Communication Arts and New York Art Directors Club and his was the lead portfolio in a major collection of current photojournalism, What Matters (Sterling Press, 2008) along with work by Sebastiao Salgado, James Natchwey, Ed Kashi and others.
Most of his work is on conservation or natural history subjects, the coverage of which gained Gary the Ansel Adams Award from the Sierra Club in the U.S., and the Outstanding Nature Photographer citation from the North American Nature Photography Association (NANPA). He was a founding Board Member of NANPA and a founding Fellow of the International League of Conservation
Photographers.
Gary's comprehensive book Earth Under Fire: How Global Warming is Changing the World (University of California Press) was first published in 2007 and has been updated in a paperback edition and made into an e-book (2009-2010). Praise for this book has come from Al Gore, members of the Nobel Prize winning scientific community of the world, Vanity Fair, Nature, Robert F. Kennedy Jr., Bill McKibben and Paul Hawken.
He received the Ansel Adams Award from the Sierra Club and the Outstanding Nature Photographer citation from the North American Nature Photography Association. In 2010 he was named as one of the Forty Most Influential Nature Photographers by Outdoor Photography magazine.