Exhibits
EXHIBIT Closed on September 23rd 2012
Juror: Dan Burkholder 
Images made with mobile phones are becoming part of the photographic mainstream. Made with a phone camera, processed on the phone and even printed from the phone, these images are showing up in exhibitions both as a genre and alongside classic silver gelatin prints.  What distinguishes mobile device photography from that made with other devices?  Less and Less.  Possibly the fact that you can do it all on one device is unique.
Sometimes the images created with mobile devices are more candid. Having a camera with us all the time lets us capture moments that can otherwise escape. Very quickly mobilephones are becoming just another type of camera taking their place alongside pin hole cameras, toy cameras, point and shoot cameras, SLR cameras etc. Here, in the gallery, we say it over and over - it's not the camera - it's the photographer's vision and skill that makes a great photograph. Last year's mobile phone photography exhibit said it. We want this year's exhibit to prove it.
Video tour by Polly Raine and Clement Yonkers including interviews with
Dan Burkholder and Laurie McCormick
Interview with Dan Burkholder on the Brian Lehrer Show about iPhoneOgraphy
and it's place on the photography scene

Juror's Statement:
Five years have passed since the first iPhone opened the floodgates to easily captured and easily stylized imaging. For Photography — a medium just 186 years old — that's long enough for a certain maturity to emerge. Happily, you'll see some of that visual coming-of-age surfacing in this fine exhibition. Yes, there are still the ubiquitous grunge filters, vignettes, borders and square crops. Heck, these effects are part of what we love about cell phone photography. But when the app dust settles, the best photographers are discovering how to use their cell phone cameras in unique and hyper appropriate ways.
This exhibition is a stunning selection of today's cell phone talent, enthusiasm and fun. Enjoy it now because, inevitably, the next show will be different. That's the nature of photography, whether practiced with a view camera or a cell phone.

Dan Burkholder
---
Baseball and the Skyline
Juror's Choice
Enthralled
Honorable Mention
Bliss
Honorable Mention
---
Oliver on the Hill
People's Choice
Bath time
To the top
---
Better Late Than Never
Crossing the Great Divide
Old School
---
oh canada
Little Fish
Moonrise over the Hudson
---
Canoes
Adirondack Railway
Cat in a Box, in a Box
---
Rainy Niagara
From the F Train
Moscow City
---
The Coast
Pedo-Beren (Berlin)
Steeples for Peoples
---
Less Traveled
Movie Night
"Spiderman"
---
Greetings From Ocean City
Flamingos Of The Sea
umbels
---
Approaching Storm
Haystack Rock
Road Trip
---
Cruising Wilshire
SOLD
Untitled
Pasay District
---
Seattle City Series: Don't Drop the Kid
First Day Series: Dream to Nightmare
Powerless
---
Don't Tease the Beast
untitled 1
Fonthill Castle
---
Fall Creek, Geese, and Full Moon
In Transit
Mormon Row, Jackson Hole
---
Egret, OBX
Chick Mobile
Joan
---
Prey
Alone
Twin Lily
---
Bath Time
She Has Her Dancing Gloves On
The Bridge of Potes
---
Bairro Alto
Newly planted trees
Sunset with trees
---
Westheimer Cruisers
"Rainbow"
Once Upon A Time
---
gulf shores, alabama
---
All selected entries are exhibited in our gallery and included in a full color exhibit catalog. Juror's Choice receives a 30x48" vinyl exhibit banner featuring their image. Juror's Choice and hororable mentions will also received a signed copy of Dan Burkholder's Book iPhone Artistry.  People's Choice gains free entry into a future exhibit. We offer free matting and framing of accepted entries for the duration of each of our exhibition, subject to standard sizes. Photographers set their own prices if they wish to sell their work and retain all rights to their photographs.
Please do not contact jurors regarding your entry in this exhibit. Doing so will disqualify your entry.
---
Juror: Dan Burkholder
Dan Burkholder has a long history of looking over the photographic horizon to see, explore and teach the next great thing in imaging. Dan's new book "iPhone Artistry" (Pixiq Press, 2012) is the definitive resource for creative iPhone photographers. His first book, Making Digital Negatives for Contact Printing (Bladed Iris Press, 1995) became a seminal manual for photographers wanting to blend the power of digital imaging with the charm of the handmade print.
Dan received his B.A. and Master's degrees from Brooks Institute of Photography, in Santa Barbara, CA. Dan has taught digital imaging workshops for 18 years on three continents and several island countries. Including here at the Darkroom Gallery. His platinum/palladium and pigmented ink prints are included in private and public collections internationally.
---
EXHIBIT Closed on November 18th 2012
Jurors: Brooks Jensen and Maureen Gallagher
Red.
A primary color.
Light. Laser. Sunset. Earth. Brick. Fire. Lips. Blood. Heart. Heat.
Heroism. Rage. Loyalty. Aggression. Honor. Evil. Love. Stop.
Curry. Pepper. Paprika. Pomegranate. Cherry. Apple. Red Dress.
Red Riding Hood.
The Scarlet Letter. 
The Red Badge of Courage. Raise the Red Lantern.
Happiness. Success. Fortune. Fertility. Passion. Lust.

The Feast of the Martyrs.

Rose. Ruby. Cardinal. Sin. Loss.

Communism. Socialism. Revolution. And, a safelight in a Darkroom. 

Red. Roja. Rosso. Rouge. Red. Rot. Rooi. Roig. Rood. Red. Roge. Rudhira. 紅. RED.
Juror's Statement:
As an editor of a publication dedicated to black-and-white fine art photography, it was an interesting (and fun!) opportunity to work with color – especially since the participants were focusing on just one color: RED. Every juror has their way of whittling down to their final selections. In my process of elimination I retained images where RED was essential (rather than incidental) to the image. That eliminated the images where RED was present, but not necessarily making a strong visual statement. Of interest is that there were a number of photographs that may have made the exhibition cut, but the unnecessary "stuff" left at the edge of the image was just too distracting. A bit of subtle cropping can go a long way to tidy-up the intrusion of clutter into the rest of the print. This is probably the most common oversight we see while conducting portfolio reviews for LensWork.
When it came down to selecting my prize winners, I must confess that I had a more difficult task. I chose "Best Friends" for Juror's Choice, as I loved the rich feeling of atmosphere – with the trees reflecting in the glass as well as casting shadows on the doors. RED was essential to this image: I can't imagine that "Best Friends" would be as captivating if these were brown doors shot at noon.
I selected two completely different images for Honorable Mention: "Red Carpet Solo" was shot from the perfect perspective to juxtapose the monochrome gray lines of the concrete and glass with the bold ribbon of RED running the length of the entry. I appreciated that the photographer was careful in achieving clean lines – and the addition of a person brought a sense of scale and austerity. My other choice for Honorable Mention, "Car In Field," offers an untold story in a land that clearly loves the color RED. Maybe this is a case of "f8 and be there," but the green landscape and gray sky conspired to give the photographer a wonderful study in RED.
Maureen Gallagher
Photography offers a fundamental choice to anyone wanting to use a camera for more than just family snapshots. The moment we pick up a camera and set out to make something we might call "art," we must first decide if we are editors who select which tiny part of the world to capture in our recording or whether we are more proactive in making something in the world, or out of it. The former leans toward the documentary side of photography's capabilities; the later leans toward the use of the world as merely a starting point for an interpretive act of creation. Both kinds of photography are valid and interesting, but as the years have gone by in my involvement in photography, I find myself more and more drawn to the interpretive side of creation. Photography is not just what we see, but even more so what we make.
Where these two strategies intersect is one of the most powerful point in the photographic process — as I would propose is easily seen in the work in this exhibition. Powerful seeing and imaginative making combine into a most exciting duo in the creative process. The selection of a Juror's Choice image is based on this combination — a beautifully seen composition in combination with an imaginative making that brings the theme of the exhibition to the forefront. In fact, there is so much talent on display in this exhibition that we have here proof that this is one of the best times in all of photograph's history, simple because of the plethora of great images that are being produced by so many people who find photography an ideal medium for personal expression. Well done!
Brooks Jensen
---
Lips1
Juror's Choice
Best Friends
Juror's Choice
SOLD
Car in a field
Honorable Mention
---
a sinking realization
Honorable Mention
Bloodshot
Honorable Mention
Red Carpet Solo
Honorable Mention
---
Pensive Novice Monk
People's Choice
Heavenly Doorway
Across
---
Barn in Back Field
Morning at the Tsukiji Fish Market
Red Candles
---
Abandoned Roundhouse
Phyli and Red Veil
Girl in Korean Garden
---
Brita, Bed
Untitled
Willie Nelson
---
Cuban Dominoes
Mysterium #5
Flow
---
Private Window
Sneem, County Kerry
Plymouth in the Rain
---
Plymouth in the Rain
Bicycle Amsterdam
Guest House, Martin's Creek, PA
---
Passion
One stands out from the others
Birdseed Vendor
---
Head to Head
Dancer
Hoop-it-Up
---
Red Doughnuts
Lips
Untitled
---
Red Barn
Red Poppy
Cemetery's Dawn
---
West Monitor Barn
Geraniums
SOLD
Passion
---
Jessica
Red III
Red Turban
---
Beauty in Strength
Cowboy
Inner Light
---
Choices
Frosted Apples
Casa Luna at Night
---
A Chili Story
Waiting
Boy Playing
---
From the series "Floristics"
Bruce, Cross House, Chicago, IL
Rainy Day
---
There is a Crooked Window
The End of America
Failing Health
---
Sin Will Find You Out
Rustic
Havana
---
Rainy Yellowstone
The Littlest Monk
Meeting expectation...
---
beijing, china
zhouzhuang, china
The Red Door
All selected entries are exhibited in our gallery and included in a full color exhibit catalog. Juror's Choice receives a 30x48" vinyl exhibit banner featuring their image.
For this exhibition each juror will make a Juror's Choice and the winners may choose a:
40-minute eConsulation with Brooks - $60 value

OR a one-year Full Access Membership to LensWork Online - $59 value
Each juror will also choose TWO Honorable Mentions. The winners may choose a

A one-year Subscription to LensWork Magazine (print version) - $39 value
OR a one-year Subscription to LensWork Extended (DVD version) - $39 value
People's Choice gains free entry into a future exhibit. We offer free matting and framing of accepted entries for the duration of each of our exhibition, subject to standard sizes. Photographers set their own prices if they wish to sell their work and retain all rights to their photographs.
Juror: Lenswork's Brooks Jensen and Maureen Gallagher
Brooks Jensen is a mainstay at the popular Review events such as Photolucida and the Houston FotoFest. As a fine art photographer, author, and educator, he has counseled one-on-one, hundreds of photographers on their work, technique, and careers through personal reviews, and many more through his workshops, books, and multi-media outlets. As publisher of LensWork, he has reviewed thousands of submissions over the last 20 years. He brings a studied eye, to say the least, to his Jury task for our exhibition "Red."
Brooks Jensen, together with Maureen Gallagher, are Co-Editors of LensWork Magazine, LensWork Extended, and LensWork Daily, an online resource for news, technology, commentary, and discussion through blogs and podcast. The award-winning LensWork magazine is an anthology-style periodical published bi-monthly, featuring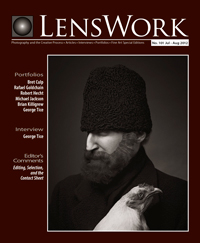 3-4 portfolios, articles and commentary, and is devoted to fine art black & white photography. It was first printed in September of 1993 and is currently available in print and for download. LensWork Extended is its expanded online companion, also featuring color work, available on disc and for download. At www.lenswork.com you'll find easy access to extensive educational opportunities through downloadable short and long tutorials, books and eBooks, and audio interviews, in addition to the LensWork Daily blogs, and an extensive collection of beautiful museum-quality publications.

Brooks and Maureen are a perfect pair to Jury "Red." Jurying for single-color focused images requires a particular, deliberate scrutiny. We are convinced that their combined experience in observing the fine points of black & white imagery (including tonality, shade and shadow, texture, density, and full-spectrum grey scale) would lend incredibly vigilant eyes to the single-color focus. They are highly sensitive to color, and with their LensWork Extended color-included online review additions, "Red" is the perfect foray for this dynamic duo.
EXHIBIT Closed on September 1st 2010
Juror: Graham Gordon Ramsay
Juror's Choice: "Glass Barriers" by Maria Elena Gioka
of Athens, Attica Greece
The juror for our portrait exhibit will be looking for portraits that "bring the viewer into a visual dialogue with the sitter". It's a challenge to have such rapport with your subject that they let down their guard and suddenly you know that you have an extraordinary Portrait - with a capital "P"!
Have you got portrait shots that draw out your subjects in ways that reveals personality, character, emotions?   How does this happen?  This is what earned early photographers the title of "spirit catchers"!
Juror's Statement:
A portrait captures a moment in the life of the sitter.  If the portrait speaks to us clearly, we come to understand something new about the person represented, and through the process of seeing the portrait we learn something new about ourselves.  We see these pictures and have our own personal reactions to them--feelings, emotions, memories.  We create narratives in our minds about who these people are, what they feel, where they come from, and how they see their world.
I made the selections for this exhibition based on the premise that an intimate portrait is a revelation.  I chose a first round of images that were well executed from a technical and compositional standpoint.  From that subset of images, I looked for portraits that draw the viewer into the stories of the people being photographed.  I favored images that evoked an element of the personal and the truthful about their subjects.
GGR
---
Glass Barriers
Juror's Choice
Annie, packing
People's Choice
Self portrait: the faces of a personality
---
Curtis "Thunder"
Chris
The Painter
---
The Painter's Brother
Chloe
George, morning (2008)
---
Faces On The Street #24, Los Angeles 2007
Black Angeles #15, Los Angeles 2009
Inquietude
SOLD
---
Katie's Dad
Brant
from the series My Ethiopian-American Portraits
---
Nicole & Diana
People of Hoi An Vietnam 1
Self-Portrait, Chemo 4th Cycle, 03.2006 (Aftermath series)
---
Homeless Mike
Kenny, 15 year old American Catcher from the All Star Series
Jeffrey
---
Pete Knows
The Young Man and the Sea
Unique Luisito
---
Helena
Daniel
The Regular
---
Bye-Bye Baby
Birds of a Feather
At The Races With Jim
---
Draining Love
Chris in a Hotel Room, Queens, NY
A Man Selling Fox Skins, Huntsville, TX
---
Tearing with Joy
The Space Between
Sissy and Pup
SOLD
---
Megan
Jessalyn
My Father at 78 Years Old
---
Cluj, Romania
Juror: Graham Gordon Ramsay
Our Juror, Graham Gordon Ramsay , has had his photography published in Atlantic Monthly, Time Magazine, Science magazine, La Figaro (France), Die Weltwoche (Switzerland). Technology Review, and many others.  When not photographing around the world, he is a photography instructor at MIT.
EXHIBIT Closed on September 30th 2010
Juror's Choice: "Buffalo on Road in Lamar Valley" by
Janet Pritchard of Storrs, CT, USA
The touch of man on the natural landscape is all around us. From shimmering cityscapes and rural farms to strip mines and garbage dumps. Let's see images that show the touch of man, light or heavy, on the earth around us.
"Contemporary landscape photography's insights and observations reach far beyond the natural environment. A close examination of the land will often reveal more about ourselves  as individuals, communities, and society at large,"  - Thomas Bachand.
Juror's Statement:
The submissions were inspiring and insightful. After careful consideration, I first selected those images that struck me on an emotional level, and then culled further based on the photographer's intent and technical execution, including composition, exposure, focus, and effects. The strongest photographs speak to the subject on many levels. The Juror's Choice, "Buffalo on Road in Lamar Valley", took my breath away. The power of this photograph lies as much with that which is unseen as seen. The bison are unaware that the land has been "saved" and placed on display. We look out from behind glass at a pristine landscape detached from its history.
Thomas Bachand
---
Buffalo on Road in Lamar Valley
Juror's Choice
Balance #1. Pemigewasset River, NH
People's Choice
Gowanus Canal
People's Choice
---
Hoover Dam
Landscape 0555
Solitude
---
Puerto Penasco, Mexico
Chacabuco
Sea
---
Tattered Tennis Courts
Salton Sea Tires
Beach chairs
---
Read Up Girl #2
Coney Island Beach
Dubai
---
Smokey Mountain 2
End of the Road
Puzzle Box
---
Anglesea Moire
launch
Post Constructivist Man
---
The Island
Grubsteak
Rowley, MA 2009
---
Living Roof, San Diego, CA 2009
Barley
Fenced Home In Developing Community, Shakopee, MN 2009
---
Ireland
Green Ribbon - Palouse, WA
SalisburyDumpTHREE
---
Rush
Halfmoon #4 (Grass)
Halfmoon #2 (Trees)
---
World's Largest Cow - North Dakota
Toward Hudson, NY
Queen Anne's Lace and tarp (N. Clarendon, Vermont)
---
Struggle to Survive (Perpignan, France)
Roswell, New Mexico
Park, Glendale, Arizona
---
Wave Wall
RESTORATION
Catlin Mound, Catlin, IL
---
James, Racine, OH
Masaya Volcano, Managua, Nicaragua
Juror: Thomas Bachand
Thomas Bachand has been a professional photographer for over a decade, working in both traditional and digital mediums. His photography has appeared in magazines, advertisements, brochures, and textbooks - both in print and on the web. He writes on digital imaging issues for professional trade publications and lecturers on photography and technology issues.
Tom is the author of 
Lake Tahoe: A Fragile Beauty
. In addition to private collections, his photography can be found in the Bancroft Library and the California Historical Society.
Thomas Bachand's photography is a consideration of the land and the competing visions that inform our interaction with the world at large. Core to the work is its accessibility to the viewer. The use of color and a documentary style allow for an open and immediate connection to the subject. By embracing a historical perspective, the photography captures a sense of honesty characteristic of the medium's early pioneers. Whether creating a single, evocative image inviting reflection or a series conveying a sense of time and place, Bachand's exploration includes the role of storyteller. He seeks a convergence of the ordinary - extraordinary only in so much as it is revealing, offering both possibility and contemplation.
The Vermont Photo Space Gallery helps photographers grow by providing opportunities to have their work evaluated by a qualified juror for display in our Vermont gallery with very little expense or hassle. We provide free archival quality matting and framing of accepted entries for each of our exhibitions, subject to standard sizes. Photographers retain the rights to their work and set their own prices for sale in the gallery.